Lazy Acres Pleasure Horse Farm

Tennessee Walking, Spotted Saddle, Racking,

and Champagne Horses





We try to have a few good trail horses for sale thru the year.
We're very selective with the horses that we choose to sell. They have to be trail ready, so when you get your new horse home, the only thing you have to do is get familiar with your new friend, and ride and enjoy them.
The horses we choose to sell have to be sound, safe and sane, and have the ability to perform all the required trail skills.
Threat's Golden Princess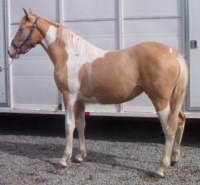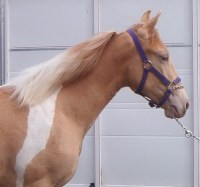 RHBAA & SSHBEA#Pending
DOB: June 26, 2001
Yearling Filly
Gold Champagne Tobiano
Princess was born and raised on our farm.
Out of our stallion
Threat's High Dollar
, Gold champagne Tobiano, and our black Masterpiece bred mare, she is a great granddaughter of Go Boy's Gold Insignia.
She has a great, easy going disposition, like her daddy. Princess has an exceptional barefoot gait and is very stylish in her way of going.
She should mature to 15.2 or 15.3 hands
$5,000.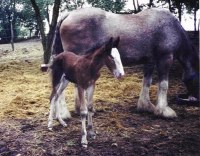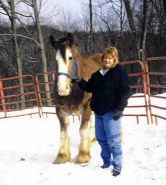 Busse's Fannie May
Registered Clydesdale--foaled May 30, 1992
Annie has a super disposition and is an excellent broodmare. She has a foal (Aug. 2001) out of our walker stallion and you can't ask for a better mother and she even takes care of the other foals we have her with. We have been riding Annie on the trails and she is doing great.
Registered Clydesdale Breeders of the United States #15092
$2500.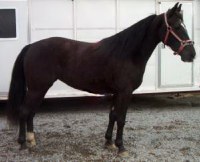 SOLD
Sensational Katie
Foaled--10-06-1999 TWHBEA#19912385
Dam: Parade's Spittin Kitten
Mare, Black
Hands: 15.1+
Sensational Katie was born and raised on our farm.
She is well started under saddle and doing great. We are working on her trail training at this time.
Katie has an exceptional barefoot gait and is a very smooth ride. She has a very stylish way of going. Katie has a very willing, curious, I'm not afraid of anything, I'll try it if you say so, attitude.
$3,500
Lazy Acres Pleasure Horse Farm
lazyacresfarm@yahoo.com
Don and Brenda Coler
10288 Sprucevale Rd.
Rogers, Ohio 44455
330-227-0122